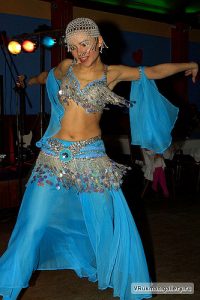 What is Folk Dance?
The term "folk dance" is sometimes applied to dances of historical importance in European culture and history; typically originated before 20th century. For other cultures the terms "ethnic dance" or "traditional dance" are sometimes used, although the latter terms may encompass ceremonial dances.
---
Origins of Folk Dance
The term "folk dance" is reserved for dances which are to a significant degree bound by tradition and originated in the times when the distinction existed between the dances of "common folk" and the dances of the "high society". A number of modern ballroom dances originated from folk ones. Elena specialises in traditional Uzbek Dance and Arabic Dance. There are a number of modern dances, such as hip hop dance, that evolve spontaneously, but the term "folk dance" is generally not applied to them, and the terms "street dance" or "vernacular dance" are used instead.
---